By Undisciplined Environments
As a collective of critical political ecology scholar-activists, we are committed to mobilizing knowledge for action, for unearthing and  the structural root causes of socio-environmental conflicts and injustices, and abolishing the intersectional oppressions reproduced by capitalism, colonialism, racism, patriarchy. We are also cognizant that war and imperialism go hand in hand, and that these are major forces of social and ecological devastation.
The current invasion of Gaza by Israel, with its relentless bombings (more bombs in a week than the US dropped in Afghanistan in one entire year), mass killings of civilians (more than 7700 and counting, of which almost half are children), and destruction of the entire city's infrastructure (including hospitals, schools, residences and other basic services), is part of a longer cycle of violence against the Palestinian people, which has its roots in the 75-year plus occupation, displacement and erasure of Palestine by Israel. As the Palestinian Feminist Collective states:
We are currently witnessing all the forces of empire mobilize against the Palestinian people, and our steadfast struggle for freedom. The genocide in the Gaza Strip is a continuation of a concerted campaign the Zionist settler colonial regime has been waging against Palestinian bodies, land, and culture for nearly a century…. We call upon all our communities and co-strugglers to take immediate action: to get informed, to spread awareness, to speak out and up, to organize, mobilize, and to commit to standing on the right side of history. 
Expressing our deep solidarity, grief and anger over the genocide and erasure we are witnessing in Gaza, we heed this call, offering this list of resources on Palestine.
** This list is being updated as we receive additional resources. If you have suggestions, you can email us at [email protected]**
Toolkits – advocacy actions, reading lists, media resources, and other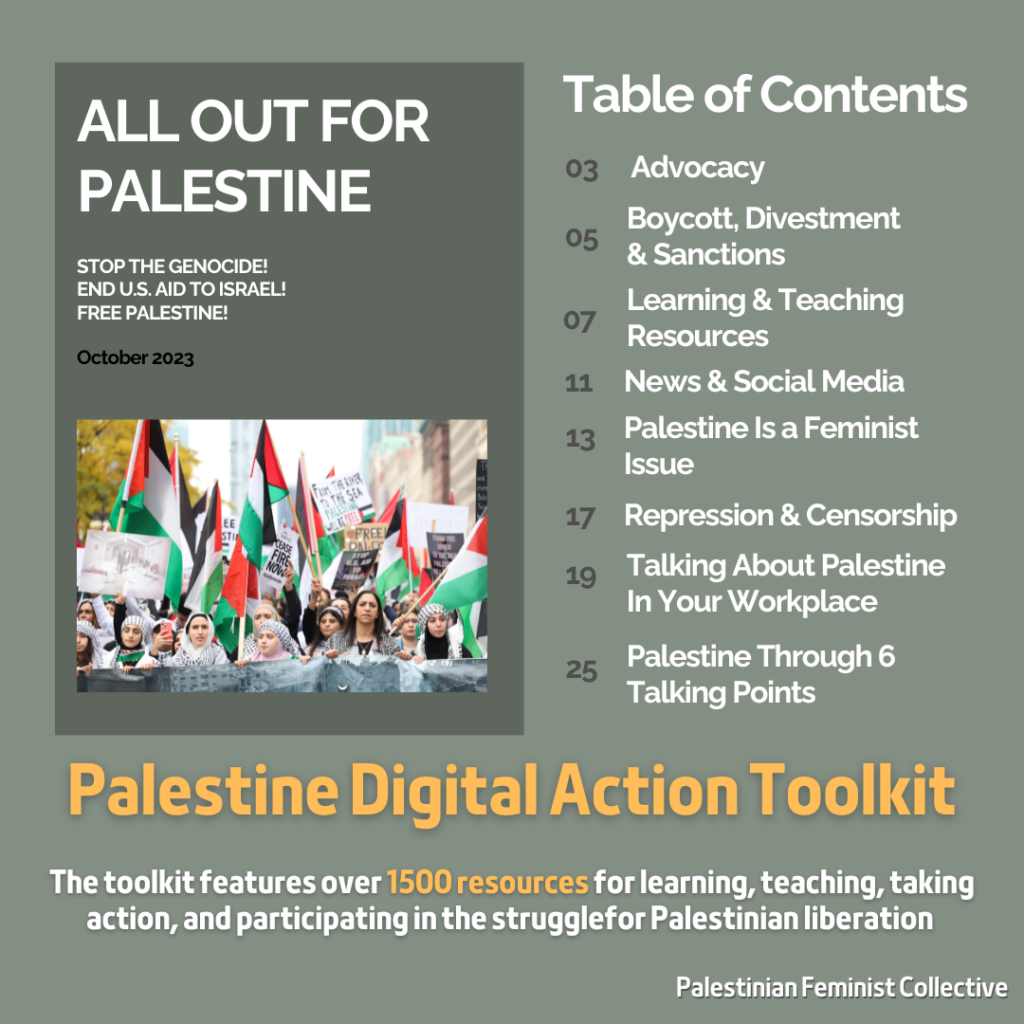 Statements of Solidarity from academic, cultural and health institutions 
Appeals for emergency donations
Top (featured) image: posted on social media, author unknown